I'll bet you are asking yourself why would you want to make your own nesting boxes for ducks. Well, let me tell you about my flock of ducks.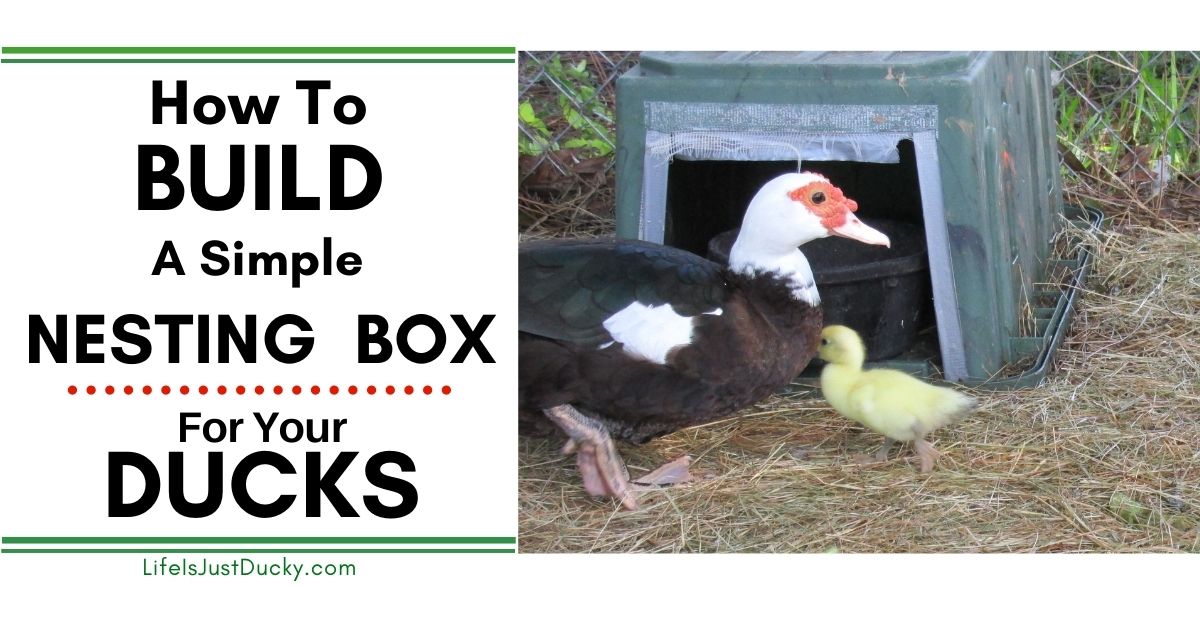 This post may contain affiliate links. Please read my disclosure if you have questions.
Thank you for supporting this site with purchases made through links in this post. For Starters Here's My Amazon Link
Make your own nesting boxes
I've read on so many sites how you can have one nest box for anywhere from 4 to 10 chickens. Well, that may be true for chickens, but I raise ducks. And ducks are a little different.
Ducks like to have their own nests. At least mine do. They tend to be very territorial and do not like to share. I've seen when a duck gets off the nest to eat, another duck will get on her nest. But when the first one comes back….well, it usually results in one duck sitting on top of the other, and that's on a good day.
Another problem is if a duck can't find a nest to sit on, she will lay her egg wherever she happens to be standing, in the middle of the run where everyone is walking, in a pile of poop, or from the rim of the plastic pond, down onto the rocks where it breaks.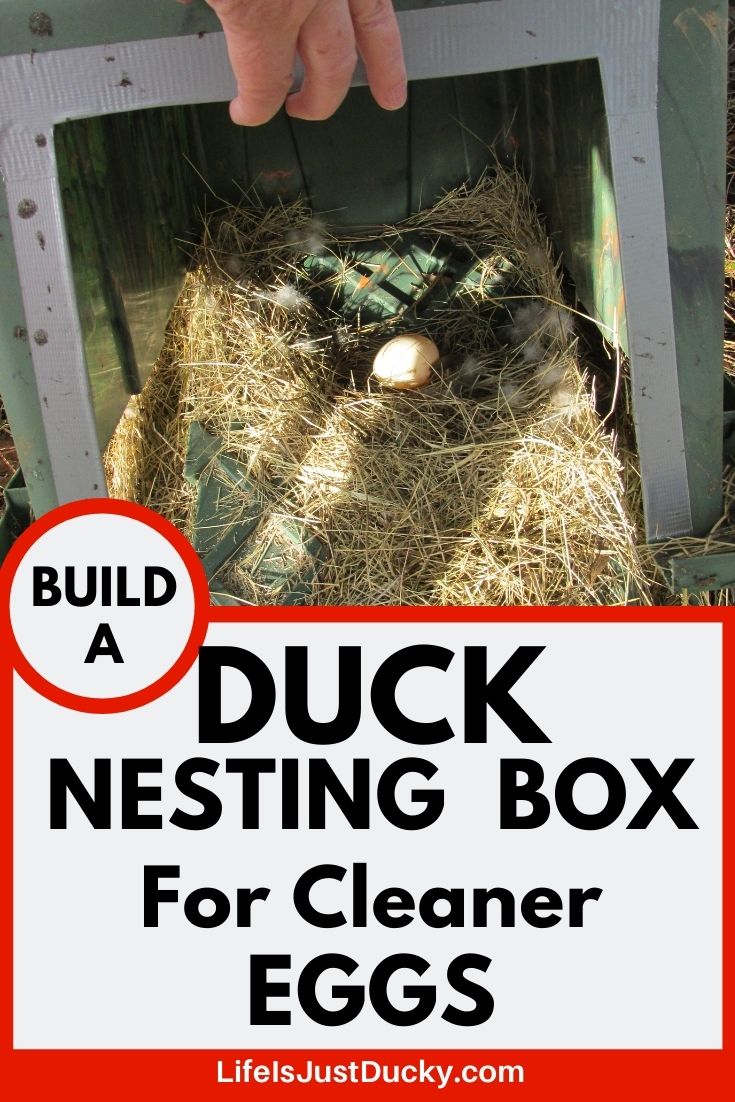 Related: 10 Necessities To A Perfect Duck House.
Ok, I can take a hint, more nesting boxes!
There also is the issue that chicken nesting boxes are not big enough for ducks. They will try to squeeze into them, but it reminds me of trying to see how many people you could squeeze into a VW bug. How many of you did that?
Ducks also like a place that is dark and where they feel secure.
I need a place where the eggs will stay dry (it rains here a lot) and a duck laying box that is easy to clean. Lastly, I need something that is not going to take me a month of Sundays to make.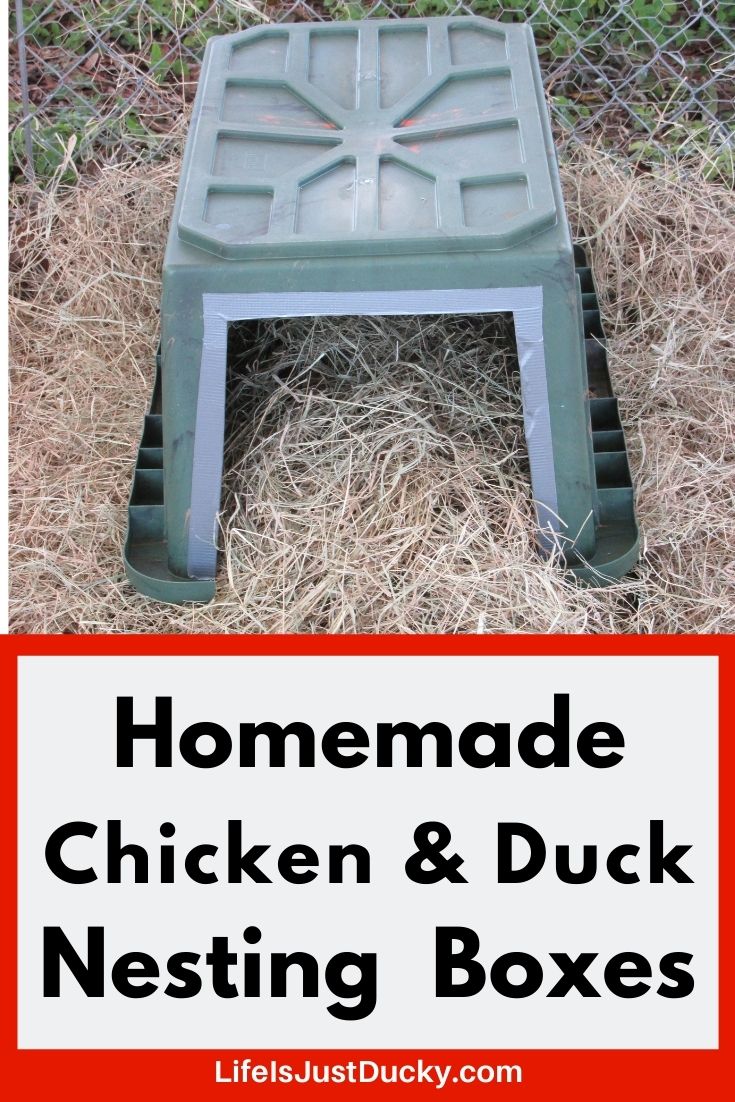 Enter: The Plastic Tote Nesting Boxes For Ducks

This is what I came up with. I looked for a dark plastic tote that was the right size for nesting boxes for ducks. ( it will need to be approximately 15″ wide x 18″ high x 23″ long.) You want it dark, not see-through. It gives the ducks a more secure, private feeling.

My wonderful hubby cut the opening in it for me. He started by drawing the opening with a sharpie then he cut it out with a hand saw. We first tried to cut it with a circular saw but the plastic wanted to crack and splinter. The hand saw worked great.
After it had been cut, the edges were a bit sharp so he edged it with duct tape. It was unlikely any of the ducks would have been hurt by the edges but the tape was there just in case.
(We later found that the outside layer of the duct tape came off, but the fabric inner part stayed on and did the job quite well. The soft side of velcro would also work. In hindsight, I really don't think you need to use anything on the opening edges of the duck nesting boxes.)
More Reading: Duck Eggs Vs. Chicken Eggs, Why Duck Eggs Are Better
Installing the new nest/nesting boxes
I took the new nesting boxes out to the duck pen and tried it out. I put the top on the ground. It becomes the base and helps keep the eggs dry and clean as ducks like to dig through the deep litter to get to the dirt/mud to lay their eggs.

I then put clean hay on it and placed the base, which now becomes the top, on top of that. Done!
Wow, does that sound clear as mud? Hopefully, the photo will explain it better than I just did.
Related: 30 Gift Ideas For Duck Lovers

Collecting the Eggs
Now I can take what is now the top off, or just tip it, to gather the eggs, add fresh hay, or clean the nest box.
It did take a few days for my ducks to trust that this "new thing" in their pen was not going to eat them. They are so leery of anything new.
But now they love their new nests and I really love the clean eggs. I'm going to give them a larger one soon so they have room to raise a batch of ducklings. Mama will need that extra room for her brood.
Check out these other posts about raising ducks:
Deep litter duck and chicken run,
A Well Designed Duck Coop To Make Your Life Easier.
Did you like this post? Then, I'd love it if you'd share it!
Want some more top posts? Check out this list of Readers' Favorites.
Happy Gardening!
I believe everyone can grow at least part of their own food! Let me show you how.