Do you want a clean, healthy, easy to care for duck or chicken coop and run? Do you want fewer flies in the chicken run? Then let me tell you about the deep litter method.
This post may contain affiliate links. Please read my disclosure if you have questions.
Thank you for supporting this site with purchases made through links in this post.  Here's My Amazon Link
How I Started Out.
When my daughter first brought the ducklings home seven years ago, we really knew nothing about raising ducks. After they had outgrown their brooder, she bought a chicken coop and a dog kennel for their run.
Related:  What To Feed Ducklings.
They ate all the grass out of the site very quickly, and since I had heard about the sand method, and all our ground is sand here in Florida, I figured that was all we needed. Boy was I wrong! Very soon we were overrun with flies! My wonderful neighbors had no problem with us keeping the ducks, but they hadn't agreed to a hoard of flies.
We tried about every type of fly trap there was, and while they helped, nothing could keep up with them. So I had to do something quickly. I did a little research and found The deep litter method.
What Is The Deep Litter Method?
The deep litter method is simply covering the floors and ground in the coop and run with the "litter" of your choice. Then as the chickens or ducks soil it, add another layer right on top. This keeps your birds out of their own waste, making a much cleaner and healthier environment. Then the lower layers compost right on the spot.
More Reading: Duck Eggs Vs. Chicken Eggs, Why Duck Eggs Are Better.
Why Use the Deep Litter Method?
Let me count the ways! (or the why's in this case)
Much easier and less time-consuming. You only have to scoop out the litter twice a year!

It is cleaner & healthier.

It doesn't smell.

It makes amazing compost.

It attracts earthworms (in dirt floor areas) which help feed your birds naturally.

It helps heat your chicken coop in winter.

You get c

leaner eggs (ducks drop them everywhere).

It cuts WAY down on the flies!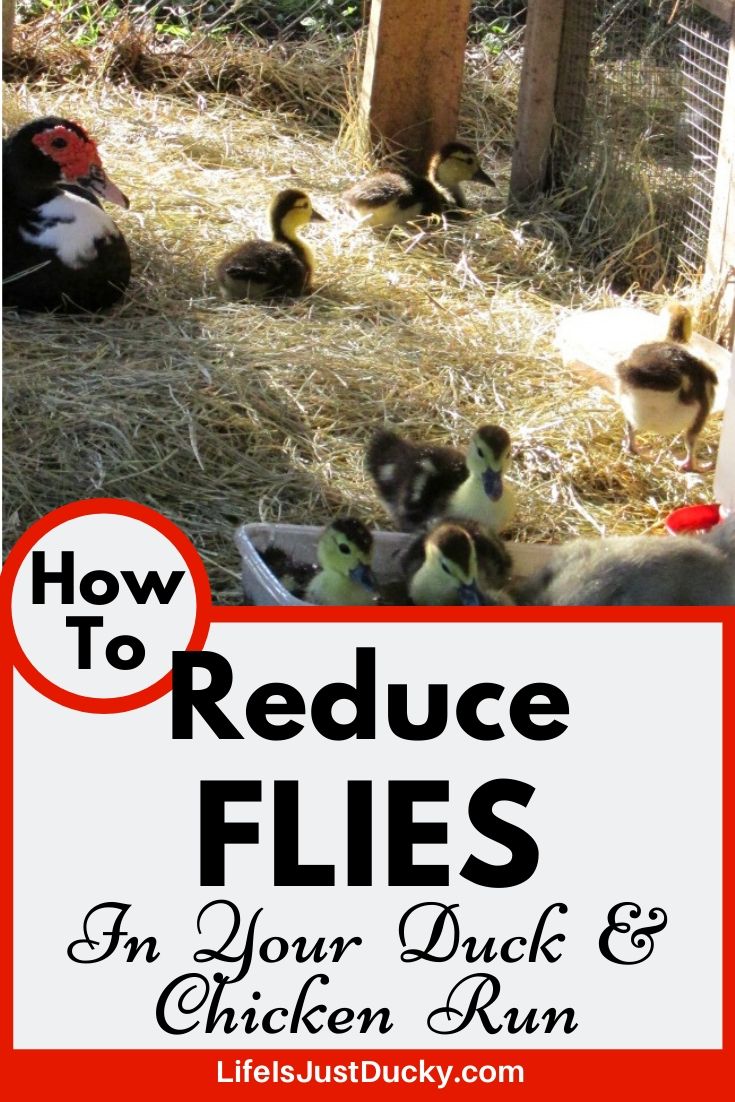 What Do You Use For Litter?
Pine shavings

Shredded dry leaves

Straw

Shredded newspaper

Dry/not moldy grass clippings

Or my favorite – HAY

DO NOT USE CEDAR SHAVINGS – They are toxic to fowl
Related:  Preparing For Predators On The Homestead.
How Do You Start A Deep Litter?
First, it is a good idea to do a thorough cleaning of your coop. Then add 2-4 inches of litter to all "floor" surfaces.
I just take handfuls of hay and shake it, until all the floor/ground is covered and looks new. Then when it gets soiled, I add another layer to it.
How long it takes to get soiled depends on how many birds you have and how big your area is. I have to add hay about once a week. While I was raising a batch of ducklings and had several extra birds in the same area, I had to put down hay about twice a week. In the rainy season, I have to add a layer more often too.
Some people like to turn their litter before adding new. Others will throw out scratch to get the chickens to turn it for them. My ducks dig for worms and bugs and do a great job of keeping it turned for me. If it begins to smell, you will want to turn/stir it, as getting air incorporated with it will speed up the decomposition and cut down on the ammonia.
As the litter and feces compost, the beneficial microbes multiply. This actually helps control pathogens and makes your flock healthier. Digging through the beneficial microbes is good for them, and helps them more easily fight off diseases such as coccidiosis.
What Do You Do With The Litter When You Clean It Out?
Oooohh, this is one of the best parts. While this deep litter is getting deeper and deeper it is making one of the best composts for your garden. In the spring when you clean it out you will want to add it to your compost pile.
The partially composted litter will really make your compost cook!
But in the fall, you can put it right on/in the garden beds as you are putting your garden to bed for the winter. Then your garden will be enriched with wonderful nutrients for your next growing season. (here in south Florida, I reverse that as our growing seasons are backwards)
Related: Do Ducks Need A Pond?
DepositPhoto ID# 27051067 @ andia-faith
Deep Litter Keeps Your Birds Warm In The Winter
As compost decomposes it puts off heat. This will raise the temperature in your coop by about 10 degrees. But you will need to make sure your coop is well ventilated. Chickens are especially prone to respiratory diseases.
Using the Deep Litter Method, your Chickens and Ducks will have a dry, fluffy, clean floor to enjoy. And it will provide some much-needed natural protein in the earthworms it attracts.
Related: Raising Ducks 101- How To Take Care of Baby Ducklings.
You will have a happier healthier flock. With a lot less maintenance, and far fewer flies. Plus wonderful compost! It's a win-win all the way around.
Don't your birds deserve the Deep Litter Method?
Another way to keep your coop cleaner is with the Automatic Treadle Feeder. It keeps mice out and reduces food waste. It's a great addition to the deep litter in your coop and run.
Where there are chickens and ducks there will always be flies. The Deep Litter Method is wonderful, but I have a few more tricks up my sleeves too. Check out How To Get Rid Of Flies In Your Chicken Coop, Naturally! These are things that have really worked for me.
In between cleanings, if your coop starts to smell a bit…well like a coop, you can always sprinkle a bit of Sweet PDZ coop refresher. It is non-toxic, all-natural, and organic. You will love it!
Learn more about the deep litter method and raising ducks and chickens check out:
Fresh Eggs Daily Deep Litter Method
Related: 30 Gift Ideas For Duck Lovers
Related: 10 Necessities To A Perfect Duck House.
Did you like this post? Then, I'd love it if you'd share it!
Want some more top posts? Check out this list of Readers Favorites.
Happy Gardening!
I believe everyone can grow at least part of their own food! Let me show you how.
Save